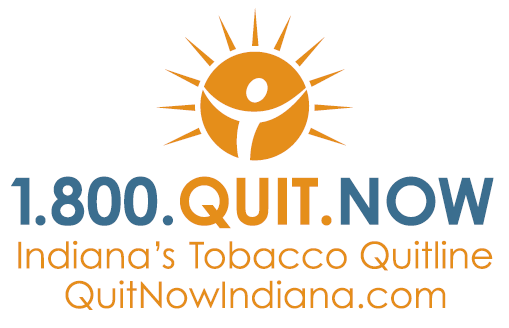 Break Free from Tobacco
MHS wants to help you break free from tobacco. Tobacco use remains the single most preventable cause of death and disease in the United States, claiming more than 480,000 lives per year. Quitting smoking can have immediate as well as long-term benefits for you and your loved ones.
Quitting tobacco is hard. You may have tried to quit several times before—two, three, four or more times—and you're still hooked. Don't give up! Each quit attempt moves you closer toward success. Let us help you today!
Call the free, confidential Indiana Tobacco Quitline today at 1-800-QUIT-NOW. The Quitline is an telephone counseling program that offers one-on-one coaching to tobacco users who have decided to quit. You can earn $20 in My Health Pays rewards for enrolling with the Quitline!
Earn Rewards
You can earn up to $145 per year in My Health Pays rewards by working with the Indiana Tobacco Quitline. The Quitline is a telephone counseling program that offers one-on-one coaching to tobacco users who have decided to quit. It's easy to get started - just call 1-800-QUIT-NOW. Be sure to tell them you are an MHS member to earn your rewards!
My Health Pays Rewards for Smoking Cessation
| Healthy Activity | Reward |
| --- | --- |
| Enroll with the Indiana Tobacco Quitline | $40 |
| Complete Your 1st Coaching Call with the Quitline | $25 |
| Complete Your 3rd Coaching Call with the Quitline | $30 |
| Complete the Tobacco Quitline Program | $50 |
| TOTAL POSSIBLE REWARDS | $145 |
Quit Aids
MHS will pay for quit aids like Nicotine gum, lozenges and patches as part of your health coverage. Talk with your doctor about which choices are best for you.
Smoking and Pregnancy
Are you pregnant? Do you smoke? It's not too late to quit. Quitting now can make a big difference in your baby's life. The Quitline has a special program for helping women during pregnancy. Call 1-800-QUIT-NOW.
Tobacco Users and POWER Account Contributions
Tobacco users will have to pay more for health coverage than non-tobacco users. HIP members have 12 months to stop using tobacco. If you do not quit, your POWER Account Contribution (PAC) will be 50% higher for the next year.
You reported your tobacco user status on your HIP application. If you used tobacco and have stopped, call us at 1-877-647-4848 to let us know. You can also call Maximus at 1-877-GET-HIP9. Then, you won't have an increased PAC payment. More importantly, you'll have made an important step toward a healthier life!
Tobacco User Status Grievances
If you believe your tobacco user status was reported wrong to MHS, you may file a grievance to have it changed.
You can file a grievance by writing or by calling MHS within 60 calendar days following the initial date the complaint was placed. You or your representative may write or phone the grievance to:
Written: MHS Member Services, 550 N. Meridian St., Suite 101, Indianapolis, IN 46204
Phone: MHS Member Services at 1-877-647-4848
Your written grievance should include:
Your name, phone number, address and signature
Your member ID number
The reason(s) why you are unhappy
How you want MHS to help
You can present copies of papers that support your case in person or in writing. MHS will send you a letter within three business days to tell you we have your grievance on file and to let you know your rights and the next steps. All grievances are resolved within 20 business days. The result is sent to you in writing within 25 business days. MHS may ask for an extra 10 business days to make a decision. If we need more time, we will let you know in writing before the 25 business day deadline. If you are not happy with the result of your grievance you have the right to file an appeal.
Reasons To Quit
Tobacco use is responsible for 1 out of every 5 deaths in the U.S.
Smokers live 10 years less, on average, than non-smokers.
Smokers have more health problems and visit the doctor much more than non-smokers.
The average smoker in Indiana will spend more than $2,500 on cigarettes each year. That's $130,000 over a lifespan!
There are many great reasons to quit. Ask MHS for help today.