My Health Pays® Rewards
Get rewarded for focusing on your health!
Earn My Health Pays® rewards when you complete healthy activities like a yearly wellness exam, annual screenings, tests and other ways to protect your health.
Use Your My Health Pays rewards to help pay for:
Utilities
Transportation
Telecommunications
Childcare services
Education
Rent
Or, you can use them to:
Shop at Walmart for everyday items**
**This card may not be used to buy alcohol, tobacco, or firearms products.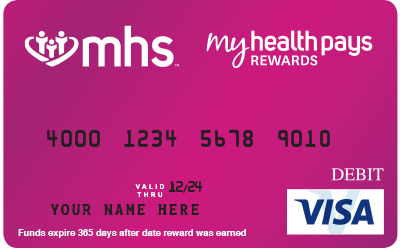 Healthy Activities Eligible for Rewards
Healthy Activity Rewards
Healthy Activity
Reward
Complete a Health Needs Screening (HNS)
within 30 days of becoming a member ($30) or within 90 days of becoming a member ($10). Log in to your portal account to complete the assessment.

up to $30
Create a Secure Portal Account and Choose a PMP
Choose a primary medical provider (PMP) through your portal account within 30 days of becoming a member.
$15
Infant Well-Child Visits
See your child's primary medical provider (PMP) for check-ups at 3-5 days old, before 30 days old, and at 2, 4, 6, 9, 12 and 15 months old. (Reward for each visit; $60 max)

$10
Annual Well-Visit
Visit your primary medical provider (PMP) for a yearly check-up; members ages 16 months and older. (One per calendar year)
$20
Annual Dental Visit
Members ages 1-20 only. (One per calendar year)

$20

Stop Smoking
Enroll with the IN Tobacco Quitline ($40), complete 1st coaching call ($25), complete 3rd coaching call ($30), complete program ($50)


up to $145
Disease Management Coaching
Initial intake assessment ($10), creation of care plan with measurable goals ($25), successful closure of care plan ($50).

up to $85
Fresh Start Program
Enroll in treatment after being diagnosed with a substance use disorder (within 14 days of being diagnosed), including enrollment in an Opioid Treatment Program ($40), attend intensive outpatient treatment (IOP) (per session up to 10 per year) ($10).

up to $140
For Pregnant and New Moms
Pregnancy and New Moms Rewards
Healthy Activity
Reward
Pregnancy - Notification of Pregnancy
Submit Notification of Pregnancy form to MHS within your first trimester ($50) or within your second trimester ($25). Submit using the Member Portal or by calling 1-877-647-4848.

up to $50
Pregnancy - Postpartum Visit
Visit your doctor for an appointment 3-8 weeks after delivery.

$20
Pregnancy - Special Deliveries
You may be eligible to earn additional rewards during your pregnancy by enrolling in OB Case Management.

up to $80
Visit our Pregnancy Page for more details.
Your My Health Pays reward dollars are added to your rewards card after we process the claim for each activity you complete. If you are earning your first reward, your My Health Pays® Visa® Prepaid Card will be mailed to you.
This My Health Pays Rewards Visa Prepaid card is issued by The Bancorp Bank pursuant to a license from Visa U.S.A. Inc. The Bancorp Bank; Member FDIC. Card cannot be used everywhere Visa debit cards are accepted.
Funds expire 90 days after termination of insurance coverage or 365 days after date reward was earned, whichever comes first.